Online Cooking School
Already Registered?
---
Natalina has taken all the most popular recipes & menus from her Classic Italian Cooking Program and packaged them here in her easy to use, Online Classic Italian Cooking Program!
Gnocchi, fresh pasta, braised beef, minestrone, panna cotta and chicken parmigiana plus so many more. All her most popular dishes that launched the cooking school are included.
Learn from the convenience of your own kitchen, on your own schedule. There are unlimited views of the professionally produced, instructional videos that you can stop and start as you wish!
As an added bonus, Natalina has included ingredient selection information, ingredient & equipment lists and timing schedules, so you too can cook like an "Italian Mamma"!
---
★★★★★



"The site has a diverse collection of cooking courses, and the Italian cooking course is one of them. Natalina has crafted a step-by-step instructional Italian cooking course to make you cook like a native Italian."

2020 Digital Defynd Ranked 4.5/5 on Digital Defynd's list of '6 Best Italian Cooking Courses Online'
---
Classic Italian Program
Single Classic Italian, 4 Course Menus
Buy a Single Class or Save Money with the Complete 5 Menu Bundle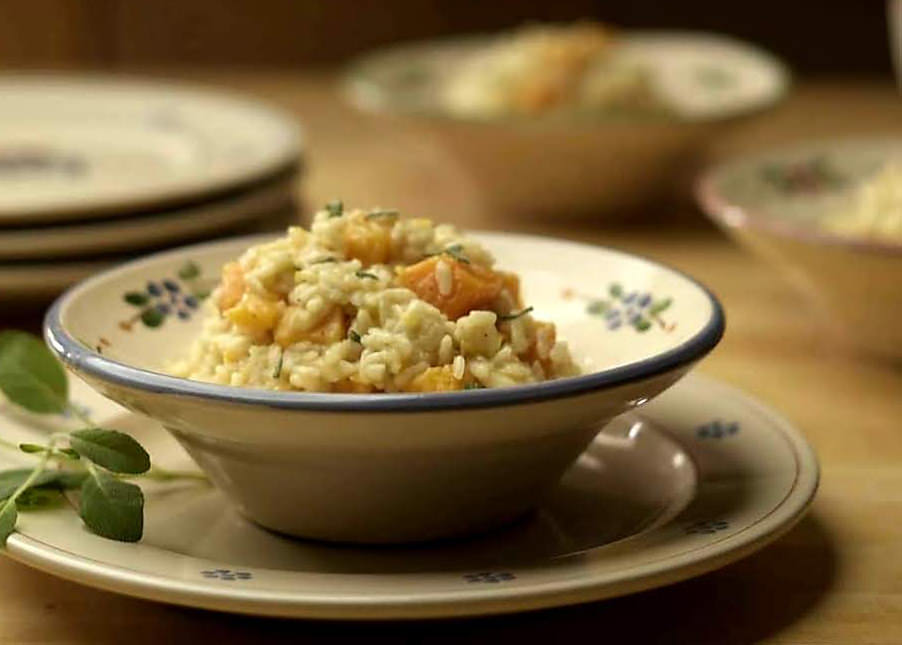 Simple & Elegant
$45 CAD | $35 USD + applicable taxes
$10 off until May 31,2022 with coupon code: SPRING10
This menu can easily be adapted to Gluten Free with the simple substitution of GF flour in the Antipasto and Secondo. The Primo and Dolce are naturally GF.
Menu Includes: Antipasto – Fried Wild Mushrooms with Vincotto or Balsamic Glaze; Primo – Squash Risotto / Asparagus Risotto / Mushroom Risotto; Secondo – Chicken or Veal Marsala with Sage & Mushrooms; Dolce – Amaretti Stuffed Peaches.
---
Family Favourites
$45 CAD | $35 USD + applicable taxes
Who doesn't love pasta with meatballs? Natalina's Southern Italian, family recipe! Substitute dry pasta to save time and effort or omit the meatballs for a classic tomato, sausage sauce!
Menu Includes: Antipasto- Basil pesto & goat's cheese crostini; Basil Pesto, Primo – Fresh egg pasta, fettuccine; Secondo – Meatballs & sausage sauce; Dolce – Panna cotta with blueberry compote.
---
Cozy & Casual
$45 CAD | $35 USD + applicable taxes
Classic minestrone and chicken parmigiana! Omit the pancetta in the soup, substitute eggplant parmigiana and you have a delicious, naturally meatless menu!
Menu Includes: Antipasto – Bruschetta; Primo – Milanese minestrone with rice; Tomato, basil sauce; Secondo – Chicken Parmigiana / Eggplant parmigiana; Contorno – Rapini with chillies & garlic; Dolce – Affogato.
---
Light & Delicious
$45 CAD | $35 USD + applicable taxes
This menu is great to serve a crowd and makes a wonderful contribution for a buffet and is naturally vegetarian. The pasta can be assembled ahead and baked just before serving. This light menu is great to serve a crowd or non-meat eaters.
Menu Includes: Antipasto – Baby greens with balsamic soaked figs, goat's cheese & pine nut; Primo – Ricotta & spinach stuffed pasta shells; Tomato Basil Sauce; Secondo – Baked salmon with fennel; Dolce – Venetian rice pudding with Marsala soaked figs.
---
Italian Comfort (FREE with $45CAD/$35USD purchase)
$45 CAD | $35 USD + applicable taxes
Learn all the secrets of light and fluffy gnocchi! Use the sauce from the beef to dress the gnocchi and serve it the traditional way with a first and second course… Or simply use your gnocchi as your "starch" with meat & vegetables to create a classic entrée.
Menu Includes: Antipasto – Classic Caprese salad; Primo – Classic Potato gnocchi; Secondo – Italian Braised beef in red wine with wild mushrooms; Contorno – Roasted root vegetables; Dolce – Zabaglione with fruit.
---
Complete Classic Italian Program (5 menu bundle)
BIG SAVINGS! $125 CAD + tax or $99 USD + tax
---
★★★★★
"The online course is easy to follow and has a tasty and diverse menu. Highly recommend…"
Alison Fraser, Online Classes Participant since 2019
★★★★★
"Learning different type of Italian recipes. I love it and thanks to madam Natalina for sharing knowledge to us."
Cheryl Domingo
★★★★★
"The online courses are easier to navigate than Zoom classes and I can go at my own pace…"
Marilyn, Retired, Online Classes Participant since 2020
---
Mini Sessions
Want to test drive the program with a mini session first?
A Casual Meal
Beginner | $20 CAD + applicable taxes
This mini session is a small sample of the complete menus.
Video & Recipe: Fennel & Blood Orange Salad
Video & Recipe: Thick crust, Pan Pizza
Stock your pantry (PDF)
---
Gnocchi & Tomato, Basil Sauce
Intermediate | $20 CAD + applicable taxes
This mini session is a small sample of the complete menus.
Video & Recipe: Classic Potato Gnocchi
Video & Recipe: Tomato Basil Sauce
How to Choose Authentic Italian Olive Oil (PDF)
The Good, the not so Bad and the Ugly…Canned Tomatoes! (PDF
---
Questions?
This course is designed for beginner and intermediate cooks or persons just wishing to learn Classic Italian recipes.
Are the techniques just for Italian Cooking?
No, all the skills learned in this course can be applied to all types of cooking. The recipes are intended to demonstrate and teach the skills, but they are transferable to any recipes that require the same cooking techniques.
What format does the course take?
It is a combination of professionally produced, instructional videos along with downloadable PDFs.
No. It can be watched at any time, at your convenience, anywhere in the world.
Can I download the entire course?
All the PDFs are downloadable and printable. The videos cannot be downloaded but viewed unlimited times through the platform.
No, as long as it is on the platform, it is available for registered students.
Can I give the course as a gift?
Gift Certificates are available only for the Classic Italian Complete Program.
How is this course different than the REAL-TIME, remote classes?
This course has more information available through the downloadable PDFs, on-screen definitions of cooking terms and it has unlimited views of professionally recorded videos. All in all, it is a better value for your money.